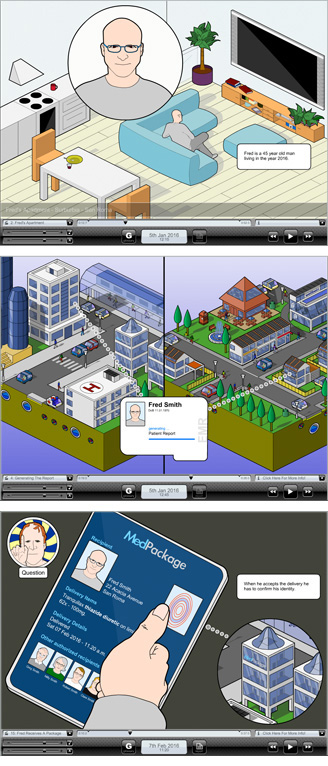 Primed Patient Simulation
Pfizer (2006)
I was completely overawed by the way Happyworm brought our strategic visions alive. It all works better than I imagined and it looks damn sexy too!
Happyworm was asked by leading pharmaceutical company Pfizer's Global Research Department to establish branding to create an interactive infomercial to explain the process behind their vision of future healthcare.
The simulation acts as part of Pfizer's viral marketing campaign to educate and inform its staff, stakeholders and partners worldwide.
What we did :
Graphic and character design
Animation and voiceovers
GUI design and development
Compelling and Informative Content
The simulation is set 10 to 15 years in the future and takes the user through a medical scenario. It demonstrates how modern future healthcare systems deal with the problem and should facilitate the presentation of further information should the user wish to see more.
The viewer can experience the presentation at their own pace and to the level of detail they're comfortable with. The idea is that a report is being generated by the expert system and medical staff, and a copy of this report is therefore readily available to the person using the simulation, allowing them to see it as it is compiled. Additionally there is the ability to view the generated report in PDF format at the end of the presentation. An interactive glossary of terms is also available to the viewer, the on-screen action pauses when viewed leaving the user to investigate further.
The client provided a storyboard and examples of dialog and report content.
Copyright © 2000 - Happyworm Ltd. Registered in Scotland No. SC212232